Louie Austen
LOUIE AUSTEN & Ensemble "That's Amore"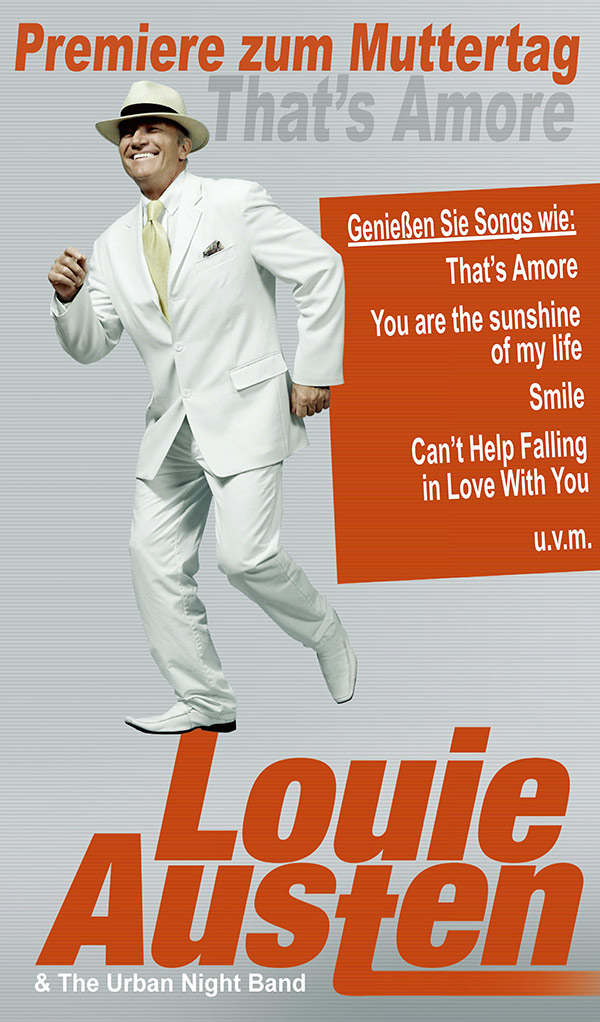 Der Entertainer und Crooner LOUIE AUSTEN und sein Ensemble präsentieren zum Muttertag eine Auswahl der schönsten Liebeslieder. Dieses Programm "THAT'S AMORE" hat am 13. Mai 2017 im Theater Akzent Premiere.
"Für jede Mutter ein Dankeschön, für jede Mutter ein Lob, für jede Mutter die schönsten Liebeslieder, zum Muttertag gesungen von Louie Austen"
Genießen Sie Songs wie: That's Amore – You are the sunshine of my life – Smile – Can't Help Falling in Love With You – u.vm. interpretiert von einem Grand Charmeur der alten Schule.
LOUIE AUSTEN holt sein Publikum ab und nimmt es mit auf eine Reise durch die schönsten Lieder, die diese Sänger in ihrem Repertoire hatten.
Begleitet wird er von der bewährten und bekannten MAX HAGLER BAND.
| | | |
| --- | --- | --- |
| 13.05.2017, 19:30 Uhr | Wien, Theater Akzent | Tickets |
ORF-Beitrag - Louie Austen feiert 70er
Louie Austen im LA Metropol
Fotocredit: OJP